Hello! I am Inoue, a Japanese Language teacher. This is the second report on the Toyonaka High School Project Study Presentation session. This time is about poster presentations and the overall appearance.
The 8-minute poster presentation, including Q&A, was performed six times after the oral presentation. Unlike an oral presentation, the students may have been nervous when standing in front of the poster and explaining to people face-to-face. But they could gradually relax and explain fluently by repeating the presentation. Meanwhile 1st- and 2nd-year students were intently listening and questioning while filling out an evaluation sheet and writing impressions.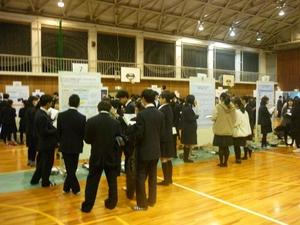 The Steering and Guiding Committee praised that the presentations were admirable as an accomplishment by five-year-period SGH designated high school students. That our students were able to present their one-year study results on such a big stage was not only valuable experiences for them but also a good opportunity for teachers to feel students' growth. The project study class I for 2nd-year students will be over soon. I wish they will make use of these experiences and grow up strong to survive in a drastically changing society.
Thank you so much for those who have taken care of us.