Hello, I'm Jodai, a teacher of English.
This time, I will share what I saw when we invited a special guest to the Global Studies session on June 16.
(I am very sorry, but late for posting this report.)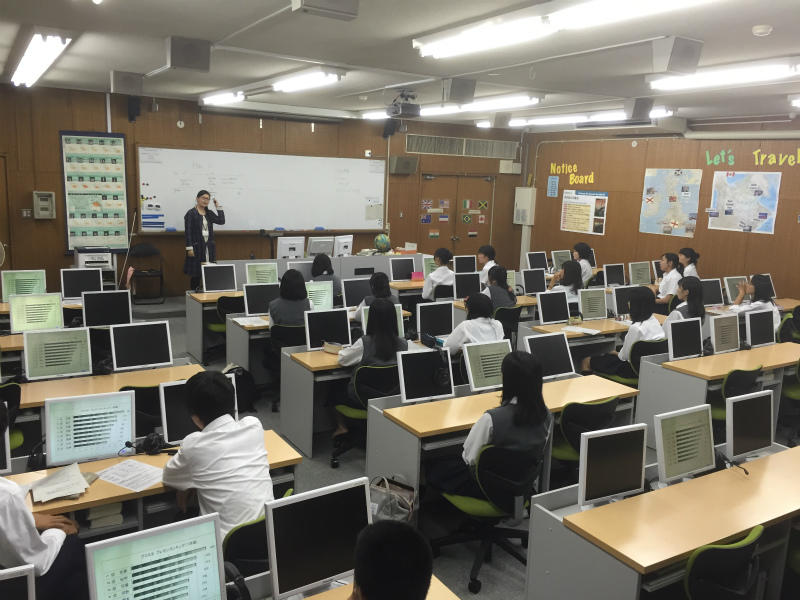 The guest was Ms. Li Hao. She used to be a student of Kaneshige, a teacher of biology. Ms. Li often helps us in the SSH project, and this time she came to the Toyonaka Senior High School's Global Studies session of the SGH project. Her mother tongue is Chinese. She has mastered Japanese and English, and speaks these languages almost as if they are her mother tongues.
By the way, Ms. Li lives in the UK now. I am also in the UK, and our school principal as well.
Three of us are in the UK, but in different places and for different purposes. Our Toyonaka Senior High School seems to have some relationship with the UK.
Let me go back on topic. The reason why I invited Ms. Li to our School was I would like to inform my students of the following two things:
(i) The fact that her life itself is very exciting
(ii) Tips of mastering foreign languages
First, I will introduce the first point (i).
She was born in China, and came to Japan when she was about 12 years old. She went to elementary school in Japan. Of course, she couldn't speak Japanese, and received supplementary lessons, I heard.
In about a year, she could speak Japanese without difficulty, she said.
Then, she went on to Japanese junior high school and senior high school. When she was in the 11th grade, she saw a poster about overseas studies and made a decision.
"I'll go to the United States."
I sensed that such decisiveness was exactly her strength. Give it a try, anyway. That's what I want students at Toyonaka Senior High School to learn from her.
After moving to the U.S., she spent her senior high school days there. Then, she moved to another senior high school in Canada and graduated there. She went on to university in Canada and received master's degree from a graduate school in Switzerland. Then, she returned to Japan, worked for an NGO, and she started her life in the UK this summer.
Her career is so exciting, and the students listened to her with bright, sparkling eyes.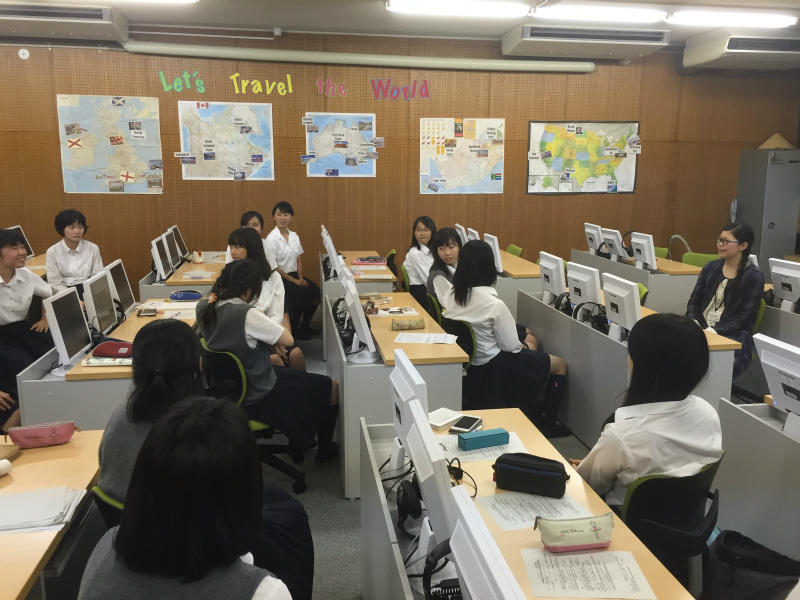 And, the second point (ii) that I'm really interested in.
That is how to master foreign languages.
Particularly, my question was what could improve the ability of speaking, which is the hardest thing to Japanese people.
Ms. Li decisively said, "Speaking is memorizing."
Some students looked disappointed thinking "After all, memorizing is the key..." On the contrary, I myself was very pleased to hear that.
I also believe that the most effective way to master foreign languages is to read aloud and to memorize.
Nothing could be more persuasive than the advice from Ms. Li who has mastered three languages.
I assigned students of Global Studies to memorize a presentation or a speech that they like as a summer homework. I also instructed them not to just memorize by rote but to precisely understand the contents first, properly imitate the phonation, read aloud to the degree that they were completely speaking their own words and then, go on to memorize it.
I think learning languages is like practicing sports and music.
Like practicing same basics every day, you read aloud. However, if you kept practicing in the wrong way, it might have the opposite effect.
I want students to read aloud with correct vocalization, pronunciation and understanding as much as possible and then, go on to memorize it.
Last but not least,
Ms. Li, thank you so much for coming in spite of your busy schedule!! (I hope you can join us again).